Posted on January 24 2020
When I was a kid, Sundays always began with my family attending our local church. Unless we were out of town or sick, we were there. Every Sunday. Four times a month. Fifty-two weeks a year.
But times have changed. The frequency of church attendance has changed. Our society is more mobile. And churches have a lot of competition for the Sunday morning time slot. People travel more frequently. They take advantage of long weekends more regularly. Their kids are involved in travel sports. And when the kids get sick, families take advantage of online services without missing a beat.
As a result, attending church is no longer a weekly event. In talking with pastors around the country, "regular" attendance is now one to two times a month. But that's not just a stat for other churches. We've seen that trend become a reality at our Atlanta churches as well. Being physically present in church ain't what it used to be.
As someone who has experienced the value of group life for many years, this is a poignant reminder of why being in a small group is so important to the "stickiness" of our churches. You're noticed when you miss. Someone calls when you don't show up. You're a tangible, valued part of shaping something important—biblical community.
Because when we're in a small group experiencing the value and virtues of group life, some really important things happen. First, we're more challenged to grow. Proverbs 27:17 says, "As iron sharpens iron, so one person sharpens another." When we're in community, we're more challenged to change and to become the best versions of ourselves. Small group is where we find encouragement to make tough decisions and face difficult circumstances. As my wife, Terry, has said, "Courage comes in community."
Second, when we're in community, we're more supported when we stumble.
As Luke 17:1 reminds us, "Things that cause people to stumble are bound to come." What causes people to stumble? People, poverty, riches, unemployment, disappointment, disease, death. Those things are guaranteed to come. But when they come, Ecclesiastes 4:9–10 reminds us that:
"Two are better than one, because they have a good return for their labor: If either of them falls down, one can help the other up. But pity anyone who falls and has no one to help them up."
You know what we've realized? It's easy to stumble out of church, but it's almost impossible to stumble out of a small group because of the intentional and regular relational connection.
Lastly, when we're in community, we're more comforted when we suffer pain or loss. Galatians 6:2 reminds us to "carry each other's burdens and in this way you will fulfill the law of Christ."
What's the law of Christ? To love others as we have been loved. Remember Jesus's words in John 13:34: "As I have loved you, so you must love one another." Where can that best happen? It happens with those we're personally and relationally connected to, which makes small groups an indispensable part of the life of any church.
Weekend church attendance has definitely changed. But the value people place on experiencing community has not. And the place that can happen best is in the context of a small group. Let's make our weekend services the best they can be so people don't want to miss them. But when they do, we can take comfort in the fact that our attendees will still be connected. They will still experience the best of church life because of their group life. That's why life really is better connected.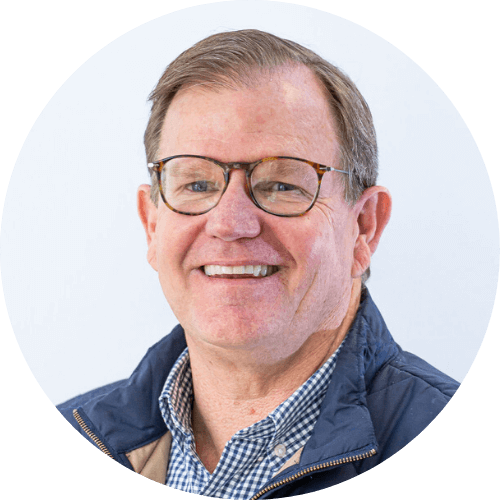 Bill Willits
Executive Director of Ministry Environments
Bill is a founding staff member of North Point Ministries and a graduate of Florida State University and Dallas Theological Seminary. He is also the co-author with Andy Stanley of the book Creating Community: Five Keys to Building a Small Group Culture. Bill's passion for community has helped create a system where over 22,000 adults enjoy the benefits of group life. His most important small group consists of his wife, Terry, their daughter, Bailey, and their granddaughter, Bentley.
NEXT STEPS
Read more about our groups model in Creating Community.
Wondering "How do I get started?" Look for next week's email where we'll tackle the challenge of motivating people to join a group.
Watch Andy preach about the importance of a group strategy.
If you have questions about starting a small group strategy, Christy can help.
MEET CHRISTY
She's our Customer Advocate. You can think of her as your personal expert, answer-finder, coach, and maybe even new best friend.